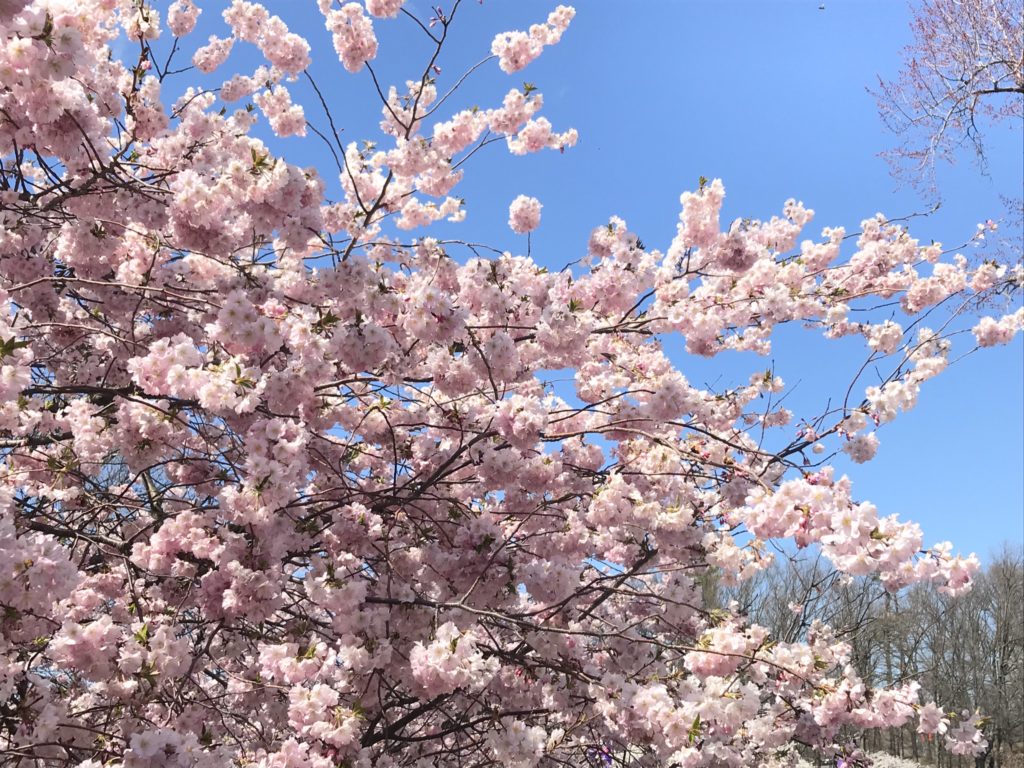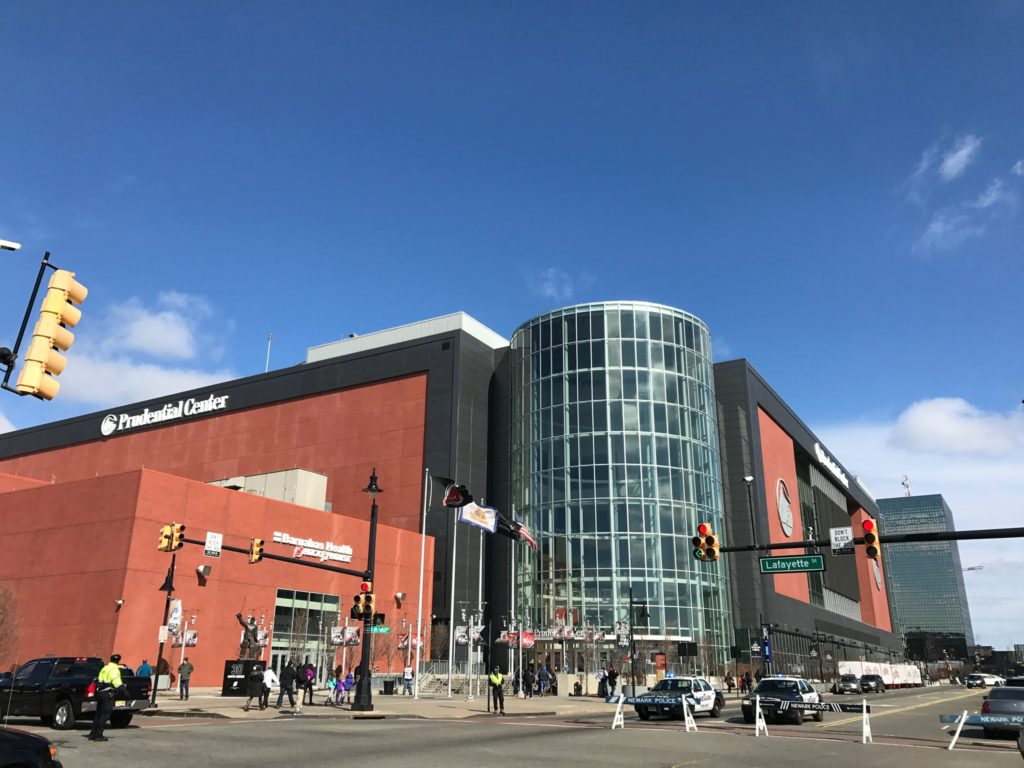 The Grammy Museum Experience at the Prudential Center, the first satellite of the Grammy Museum in Los Angeles, is a Newark destination where you will receive a warm welcome from staff members who are proud of The Recording Academy's East Coast home that opened in October 2017.  A visit after the annual Newark Saint Patrick's Day Parade this year added to the celebratory feeling of the awards showcase.
The museum opens with a dramatic entranceway filled with Grammy Awards through the decades.  Visitors then enjoy a photo profile timeline of the Grammy Awards highlights since the start in 1958 with performing artists like Lady Gaga, Tony Bennett, Bruno Mars, Frank Sinatra, Miles Davis, Dean Martin, Sammy Davis, Jr., Elvis Presley, and milestones like the founding of the Latin Recording Academy in 1997.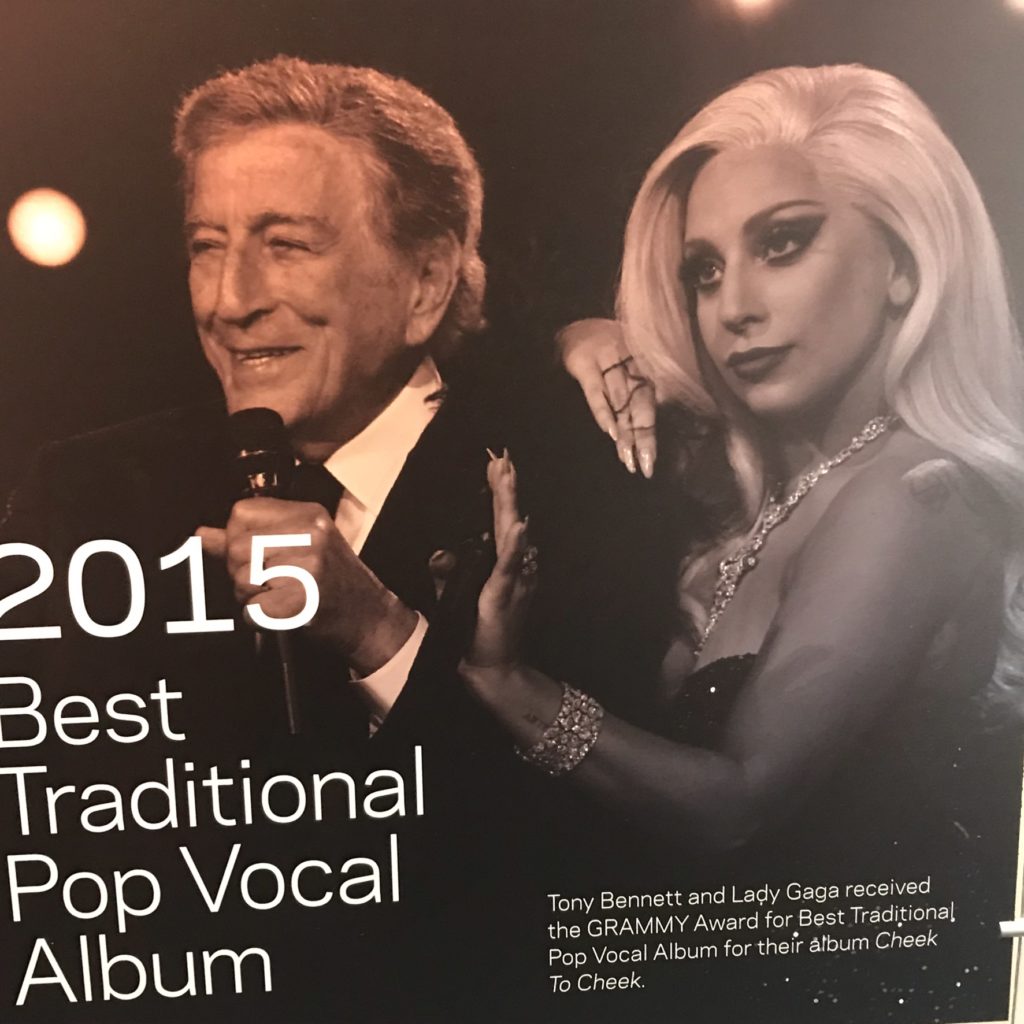 There are also video interviews with singers like Halsey, from Edison, New Jersey and Ed Sheeran. Fun, interactive exhibits "Ray Charles and Raelettes" and two with Newark roots, "Drum with Max Weinberg" and "Wyclef Jean's Rap Interactive," are hits with children.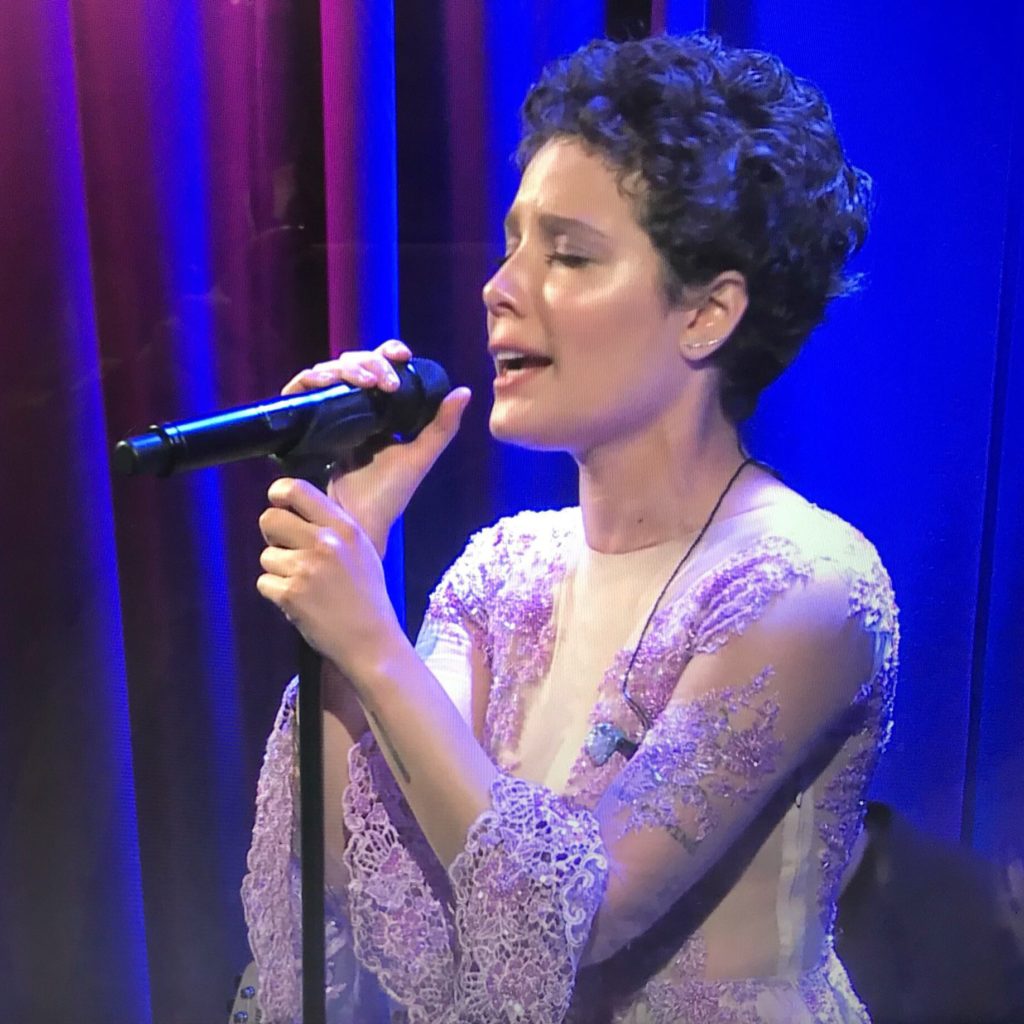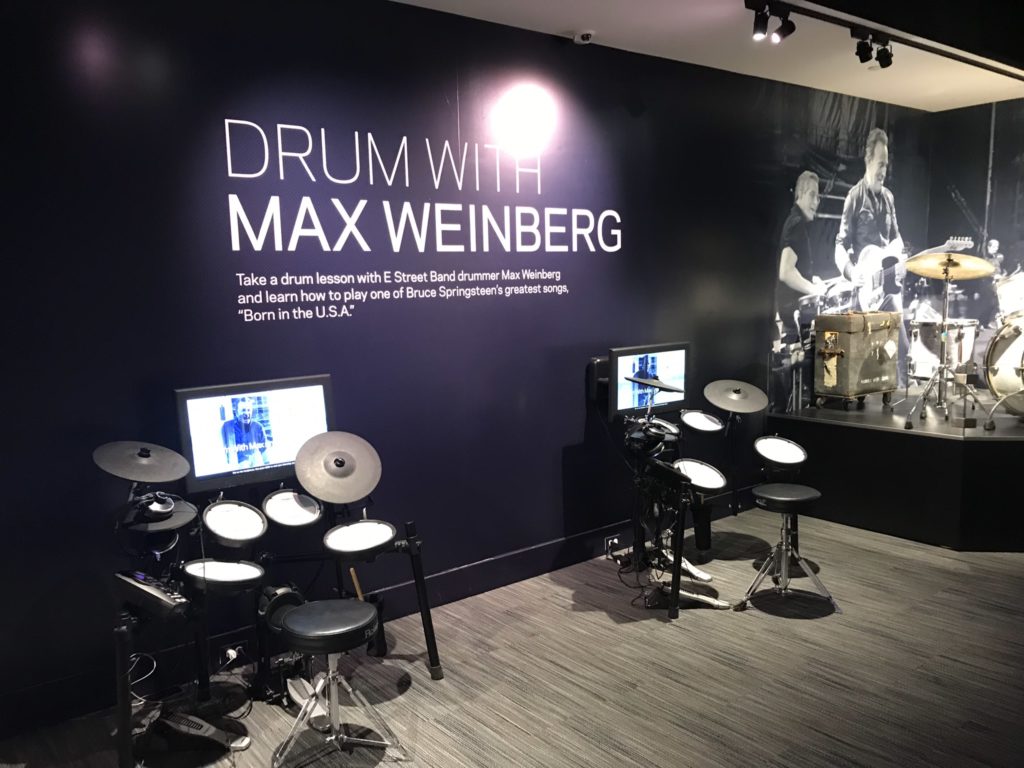 During this week's Cherry Blossom Festival in Branch Brook Park, or after a concert, an NJ Devils match, the annual Mikey Strong Charity Game, or a Seton Hall Pirates basketball game at the Prudential Center is an ideal time to visit the modest-sized museum. Admission is $10 with discounts for youth (3-17, 2 and under, free), college students with ID, like those from Rutgers University Newark, the New Jersey Institute of Technology, Essex County College, and Seton Hall Law School, $9, military with ID, $7, and group rates.
The art at the Prudential Center, known as "The Rock" from the Prudential Insurance Rock of Gibraltar logo, features sculptures as one enters the building: "The Salute," honoring Martin Brodeur and "The Iron Man," the latter on Championship Plaza, both by sculptor Jon Krawczyk, a New Jersey native and a Devils' fan. Indoors is "The Mural," the largest sports mural in the world by ambidextrous sports artist Tom Mosser from neighboring Pennsylvania, paying homage to New Jersey Devils Martin Brodeur, Ken Daneyko, and Scott Stevens. Commissioned by the NJ Devils, The Mural generously includes other Garden State greats in different sports like Althea Gibson, Richie Regan, Terry Dehere, Tony Meola, and iconic New Jersey landmarks: Newark's Prudential Building, Barnegat Lighthouse, Atlantic City's Steel Pier, and the dome of the state capitol. Mr. Mosser's "Vintage Stadium Series" on Suite Level One, includes all four NJ Devils arenas in which the team has played.  Additional works are by Samantha Wendell, Laurie Campbell, Michael Nighswonger, Dane Tilghman, Larry Ketchum, and Andy Bernstein.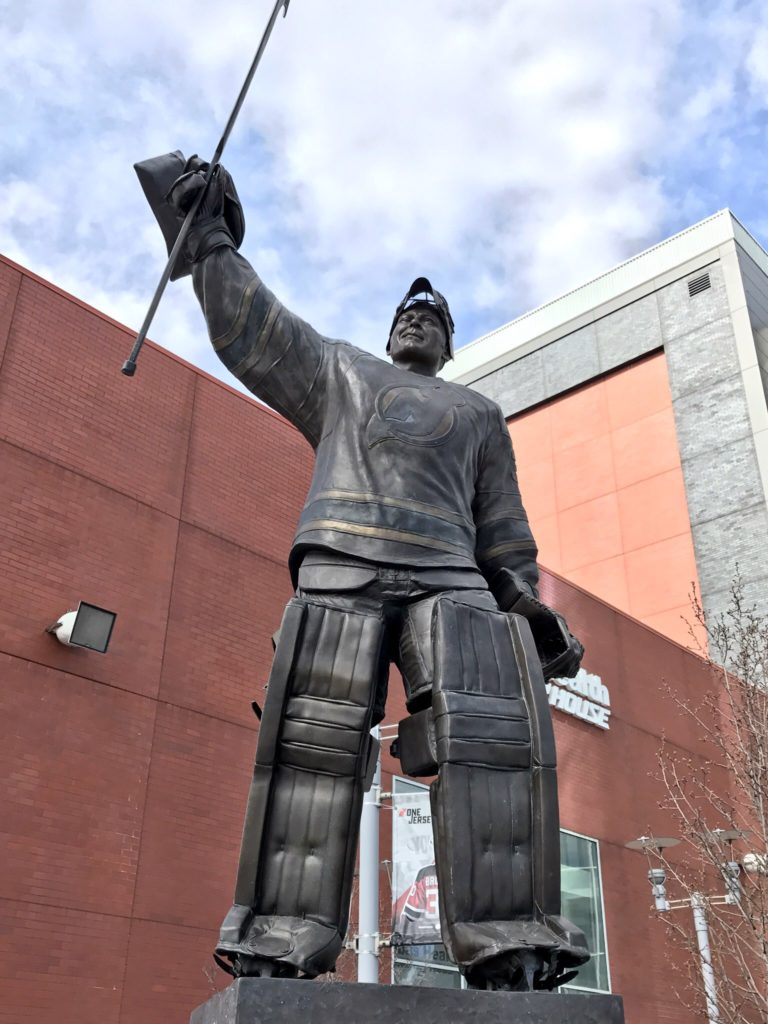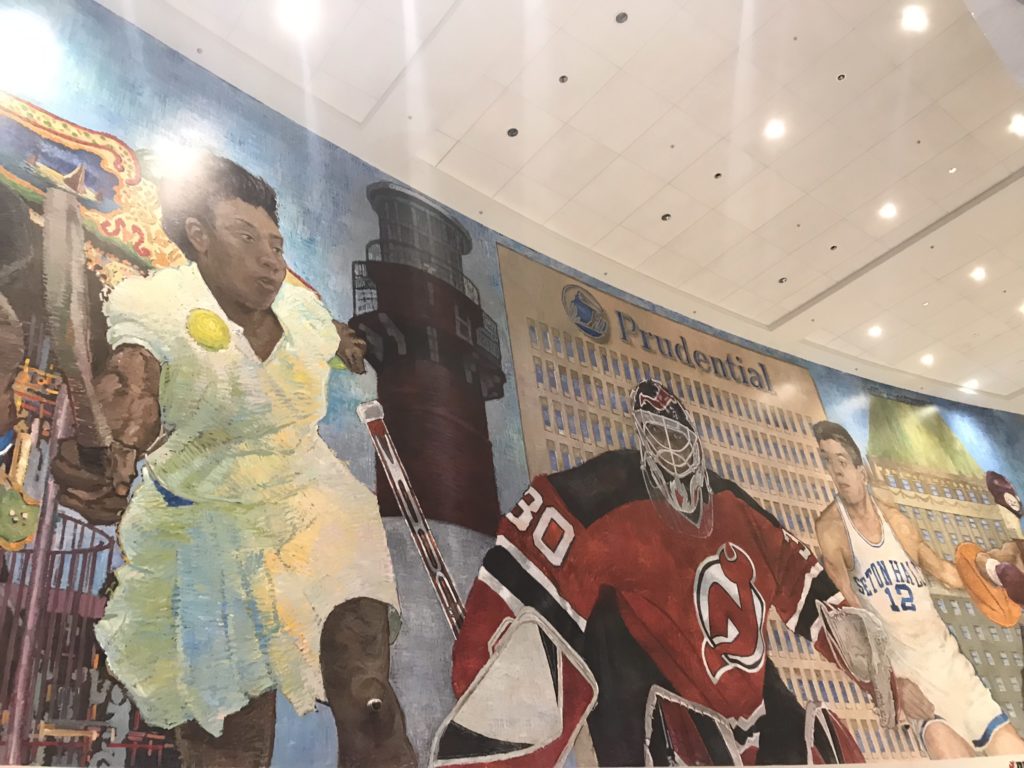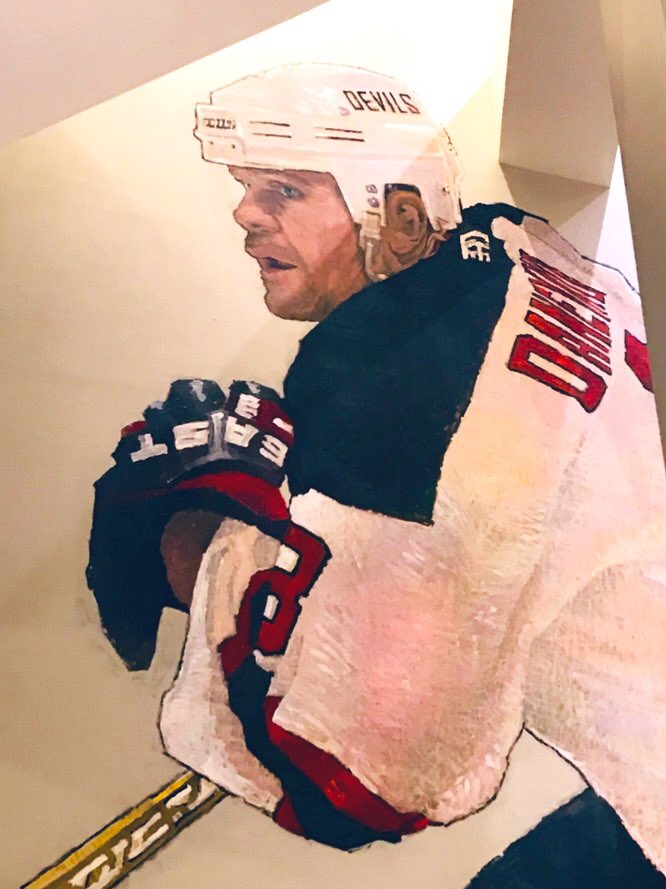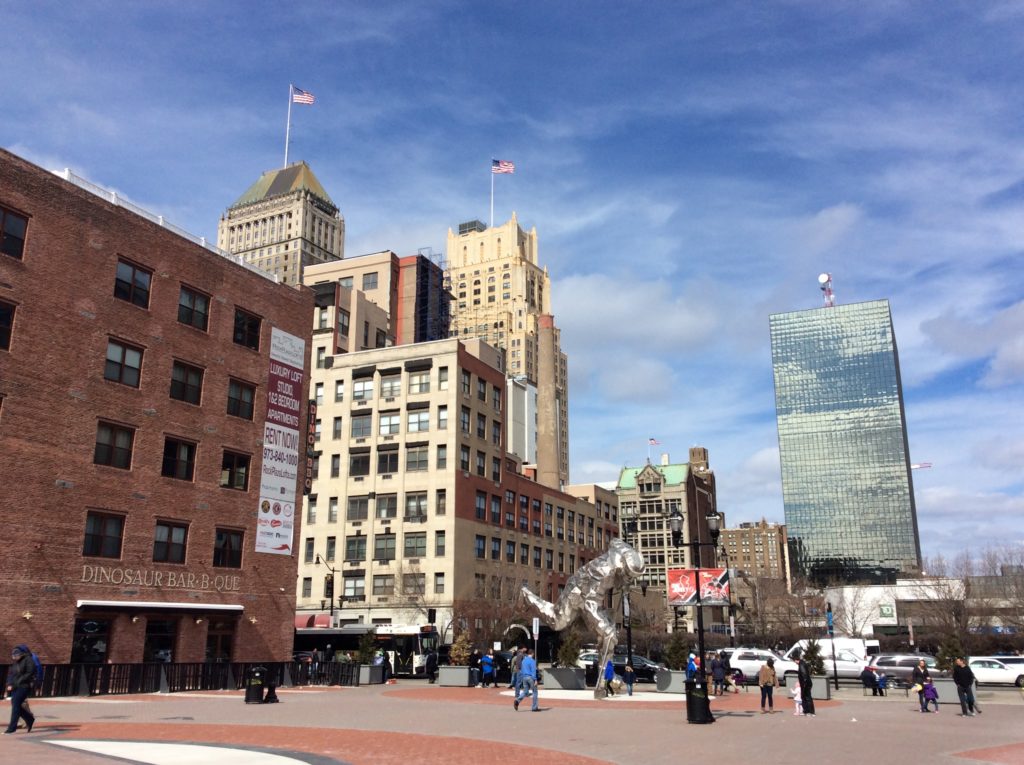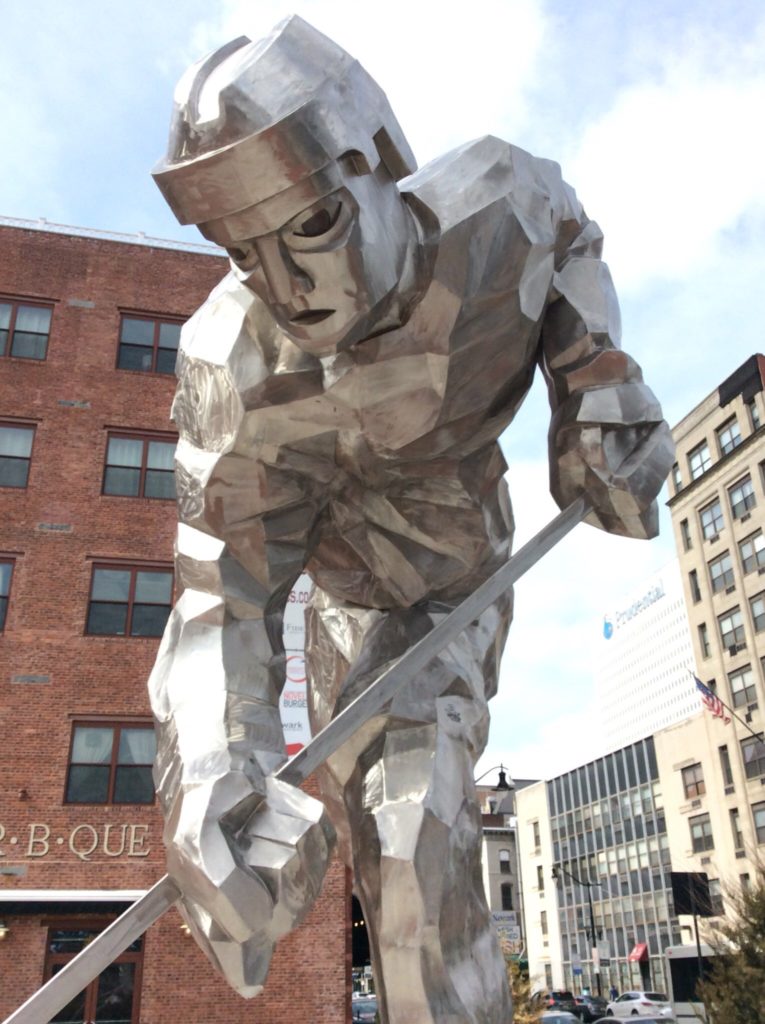 New Jersey Legends
From the fourth smallest contiguous US state comes a remarkable amount of musical talent, reflected in the exhibition "New Jersey Legends".  The names are likely familiar: Jon Bon Jovi, Bruce Springsteen, the Jonas Brothers, Gloria Gaynor, Count Basie, Frank Sinatra, and Les Paul. Either they or their families have generously donated personal items from their careers for visitors to enjoy. There are also traveling photographic exhibits of Bruce Springsteen and Frank Sinatra via the Grammy Museum LA. The exhibit notes the Asbury Park dynamic with many New Jersey musicians.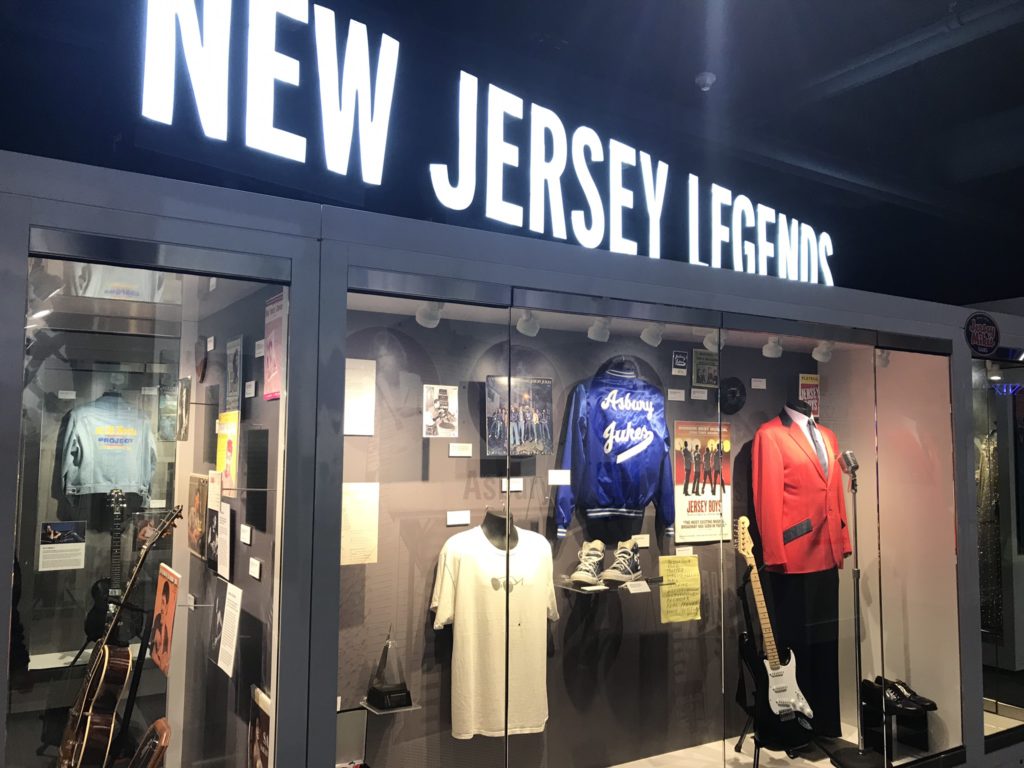 Grammy winner Taylor Swift, from Reading, Pennsylvania, spent childhood summers in Stone Harbor at the Jersey Shore.  Though Ms. Swift is not part of the New Jersey exhibit, a proud note for the state is that she spent childhood summers in Stone Harbor at the Jersey Shore. The museum featured her in an exhibit last year at this time.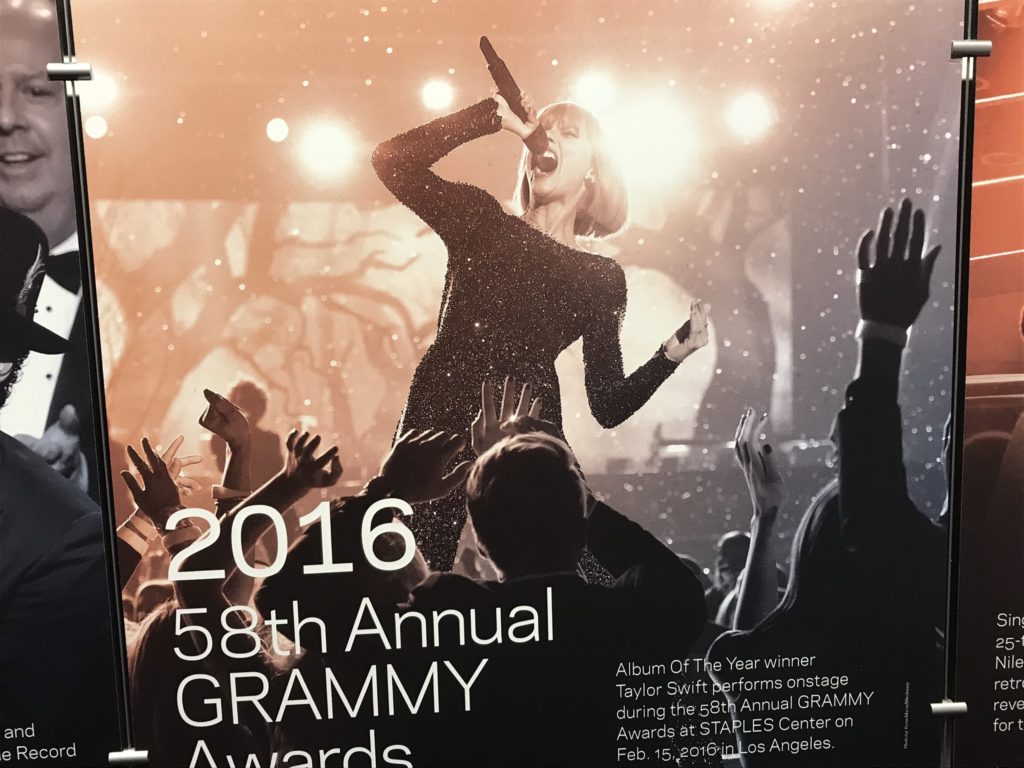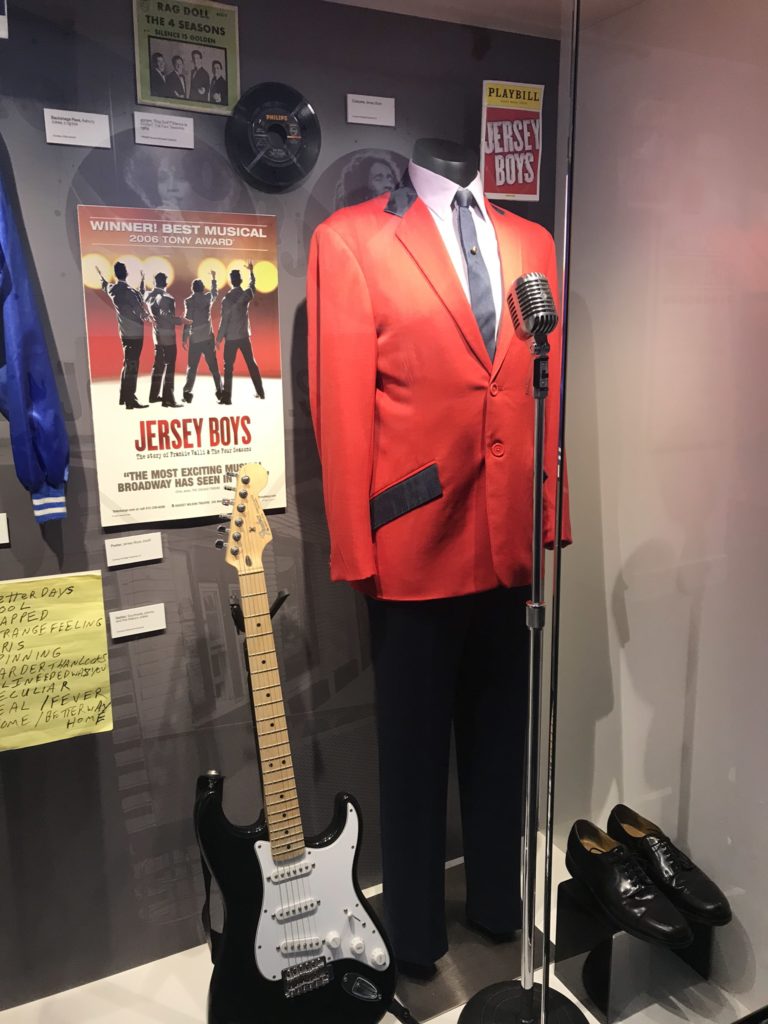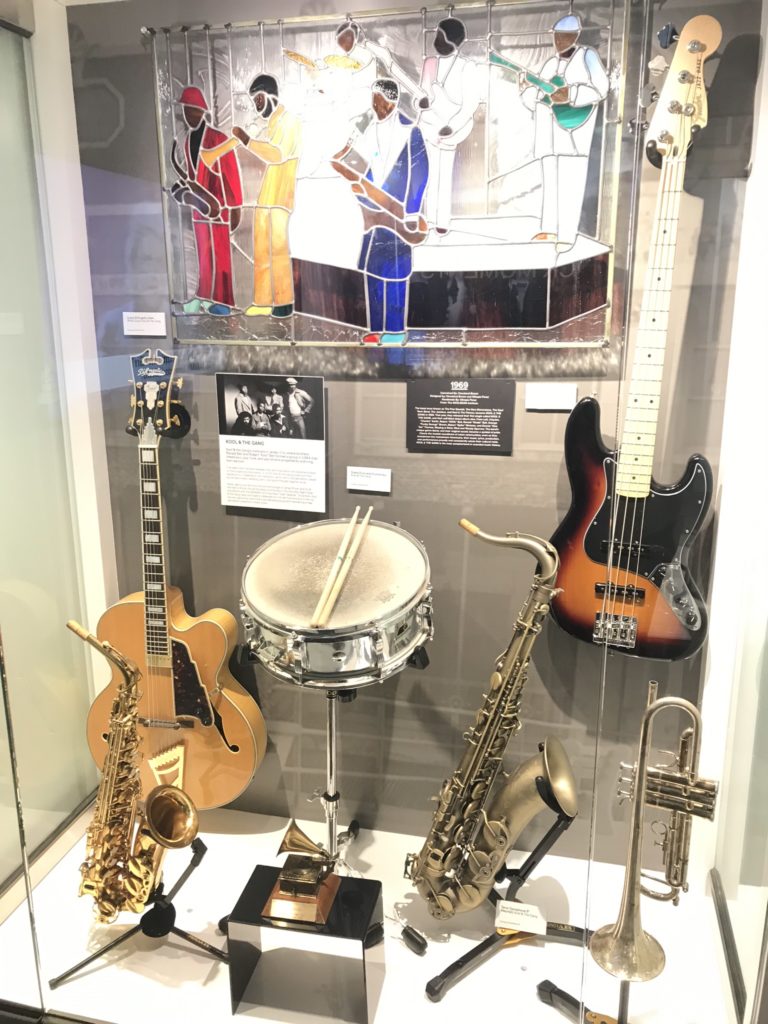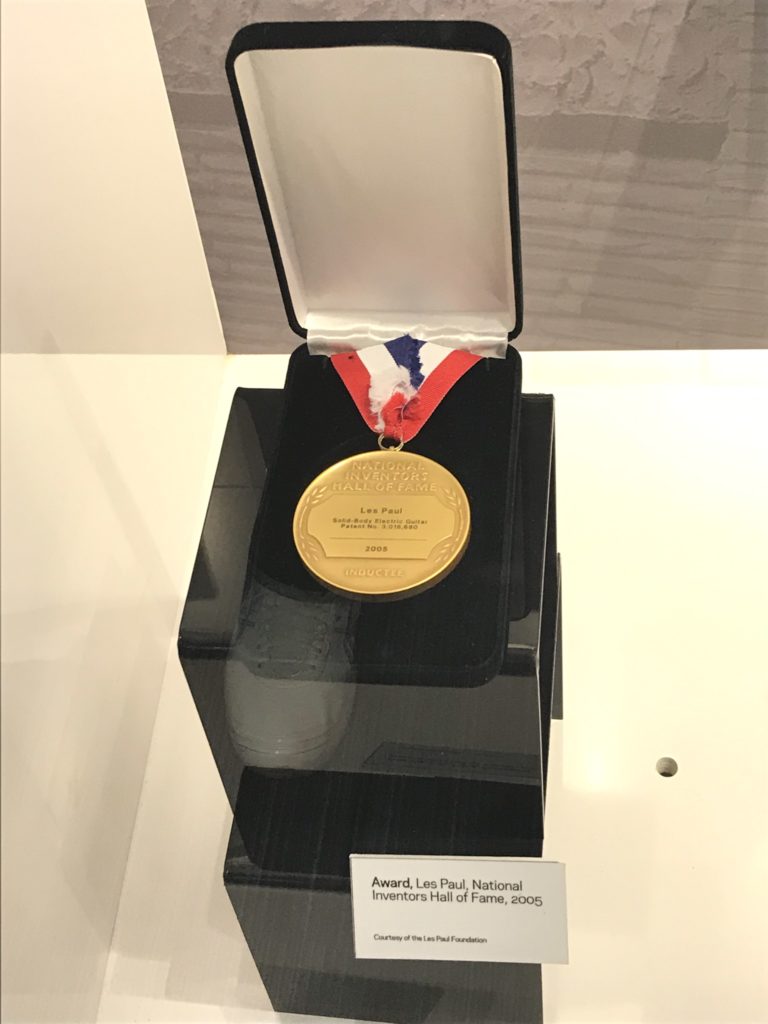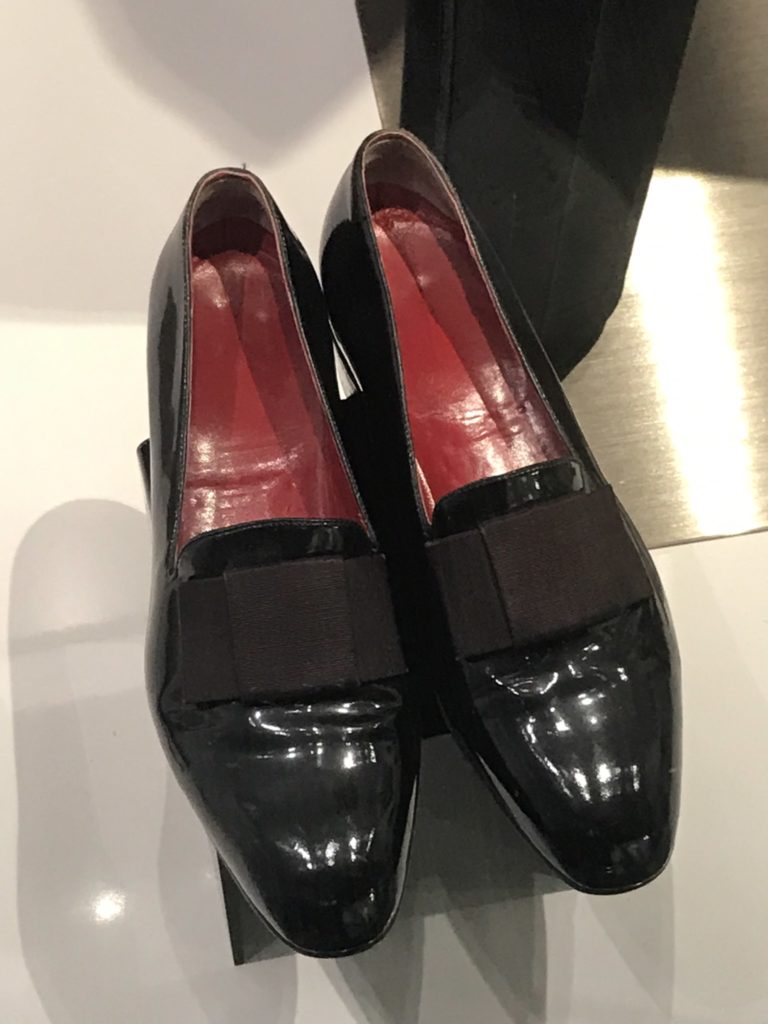 "Whitney!"
After writing these modest travel pieces for a few years, an impression is that for a legacy to continue, it is invaluable for the artist's memory to have a home. Having a physical place for children to learn about the artist, inventor, or leader helps them connect through a shared experience like playing with a new interactive baseball exhibit at the nearby Yogi Berra Museum at Montclair State University, or reading about how Mr. Berra overcame bullying, which serves as an insight into his empathy for others. At their best, such visits not only inform but inspire.
With "Whitney!" at The Grammy Museum Experience, Whitney Elizabeth Houston's legacy has found a home – at least through June of this year and hopefully longer. "The most awarded female artist of all time," Ms. Houston remains "the only artist to have 7 consecutive U.S. #1 singles."  Known as "The Voice," Whitney won six Grammy Awards, two Emmy Awards, 30 Billboard Music Awards, and 22 American Music Awards.  Her second album "Whitney" debuted at No. 1 on the Billboard 200, the first female artist to do so. To this day, "The Bodyguard," 1992, in which she co-starred with Kevin Costner, is the best-selling film soundtrack and "Waiting to Exhale," 1995, is No. 8, reflecting the staying power of Ms. Houston's talent.  Whitney's single "I Will Always Love You," written by Dolly Parton, also a Grammy winner and Lifetime Achievement Award recipient, remains the No. 9 bestselling recording in the world.  Even more significantly, Ms. Houston's success in "The Bodyguard" opened the door for African-American women as leads in blockbuster films. The soundtrack of "The Preacher's Wife," wonderful to revisit in writing this, went platinum three times and was and still is a best-selling gospel album.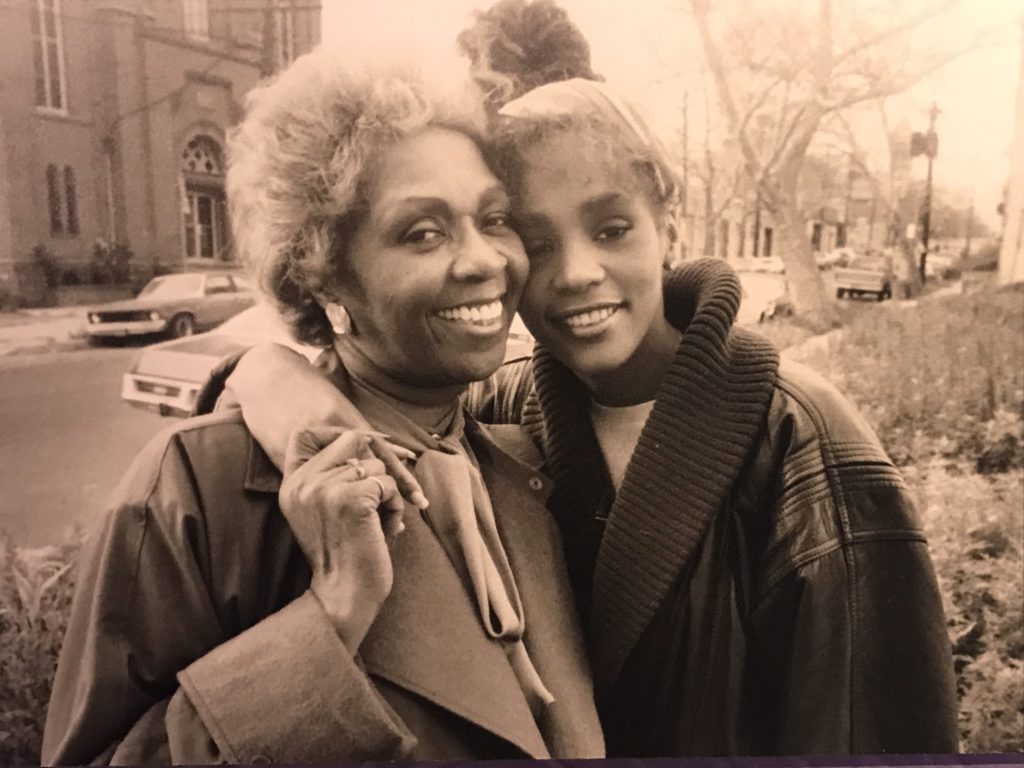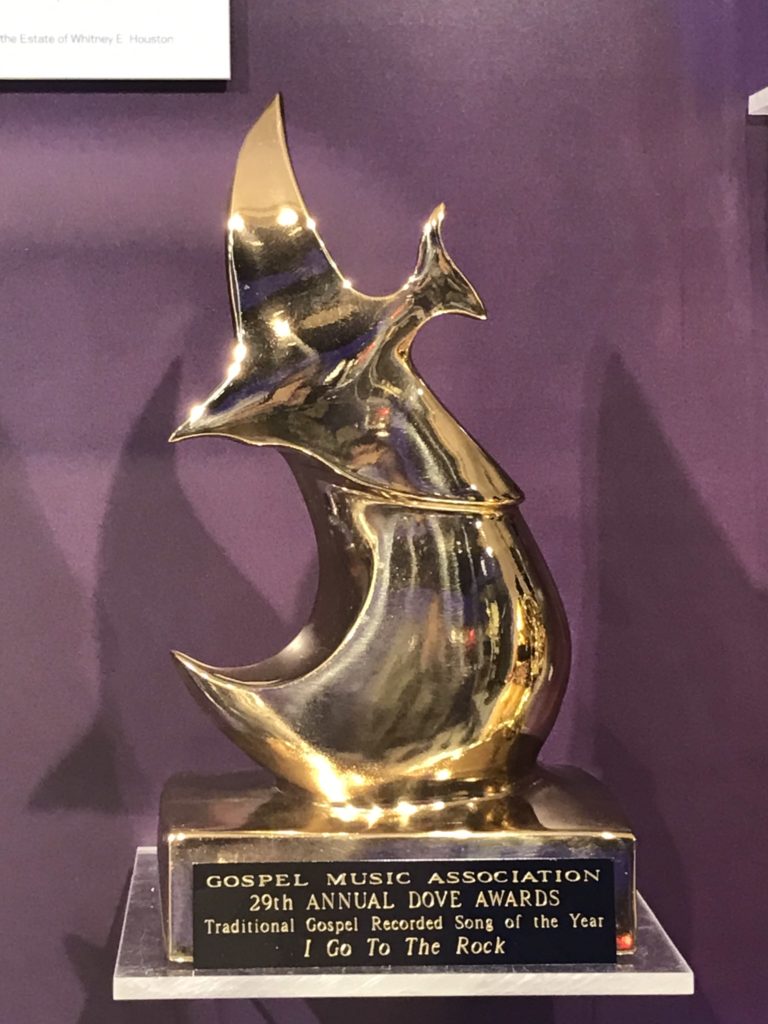 Whitney, now a member of the Grammy Hall of Fame, reached an achievement even beyond multi-gold and platinum records. According to Forbes, the Recording Industry Association of America recognizes 22 artists with "Diamond certification," that is, two albums "that have shifted at least 10 million equivalent copies between pure sales and streaming". Whitney is one of those artists whose debut "Whitney Houston" album and "The Bodyguard" each sold more than 10 million copies, 12 million and 11.8 million, respectively. During her career, Whitney sold over 170 million "albums, singles, and videos".  What is immeasurable is Ms. Houston's artistic influence on singers like Jennifer Hudson, whose tribute is included in the exhibit, Beyonce, Lady Gaga, Alicia Keys, Christina Aguilera, Adele and those still to come.
On exhibit are performance and interview videos, album covers, costumes, and designer gowns from award shows and film premieres. Charming, eclectic things like the magazine covers from Whitney's modeling days to the fairy godmother tiara that she wore in Disney's televised "Cinderella," all create a warm connection with the star for visitors.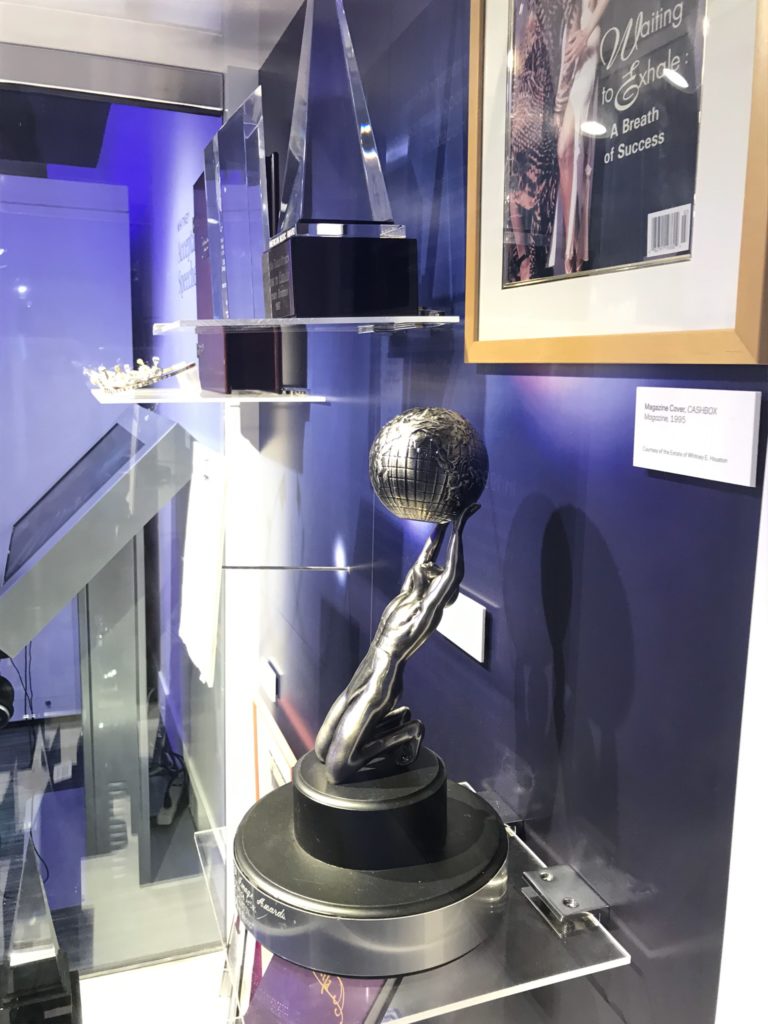 Before Whitney's red carpet experiences, her mother Emily "Cissy" Drinkard Houston, who led the New Hope Baptist Church Youth Inspirational Choir in Newark for decades, was a Grammy winner.  Cissy was part of the Gospel singing group the Drinkard Four, later the Drinkard Singers.  As a founder and member of Sweet Inspirations, Cissy was a session singer, a backup singer, or both for Aretha Franklin, Otis Redding, Jimi Hendrix, Van Morrison, Bette Midler, and Elvis Presley in addition to recording her own albums. Her nieces are Dionne and DeeDee Warwick and opera singer Leontyne Price is a distant cousin.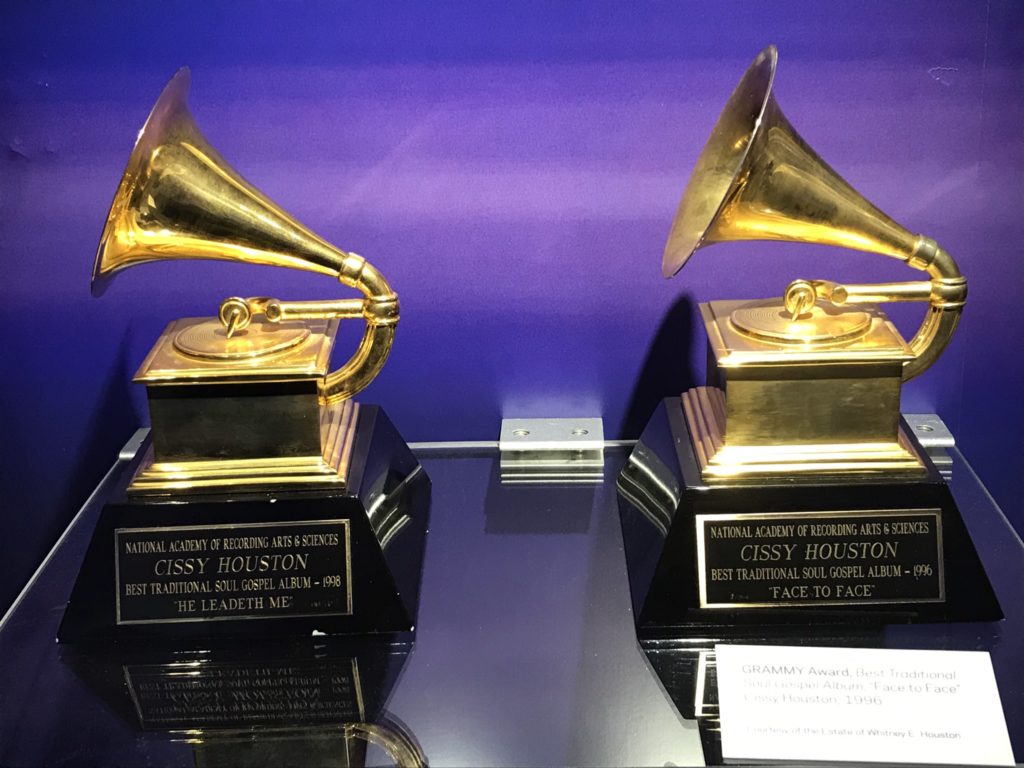 The Whitney Houston exhibit opened in October 2018 attended by her family, including her cousin Ms. Dionne Warwick. Ms. Warwick grew up in East Orange as did Whitney where both had the honor of having their former grammar schools named after them, the Whitney E. Houston Academy for Creative and Performing Arts and the Dionne Warwick Institute of Economics & Entrepreneurship, respectively.
The videos of Ms. Houston's performances and interviews with producers who worked with her underscore her virtuosity. So gifted, Whitney sang her acclaimed 1991 rendition of the "Star-Spangled Banner" perfectly on the first take for Super Bowl XXV with a talent that surprised even the most experienced producers. Whitney, her arranger John L. Clayton, and anthem producer Rickey Minor slowed down the anthem from 3/4 time to 4/4, which increased the technical difficulty, but also made it more dramatic. This arrangement added to the anthem's resonance in a time of heightened national security after the Gulf War. A few criticized Whitney for not singing the anthem live which she had done at a Nets-Lakers game, but the thought was that the cheering might not allow her to hear the first notes. Whitney did sing live, actually, though the microphone was off. An estimated 79.6 million people viewed her performance. Ms. Houston donated the proceeds of "the highest charting rendition of the national anthem on the Billboard 100 chart" to Gulf War veterans and their families.
Whitney supported many charitable organizations including her foundation. With her rendition of "A Song for You" at her "Welcome Home Heroes Concert" for those troops returning from the Gulf War, Whitney accomplished what every great singer does – each person in that audience believed that she was singing directly to him or her. We choose such songs for important life events, their words resonating with us. The songwriter Leon Russell, himself a Grammy winner, pitched it and Whitney hit it home as she did in her "One Moment in Time" video for the 1988 Summer Olympics in Seoul, South Korea.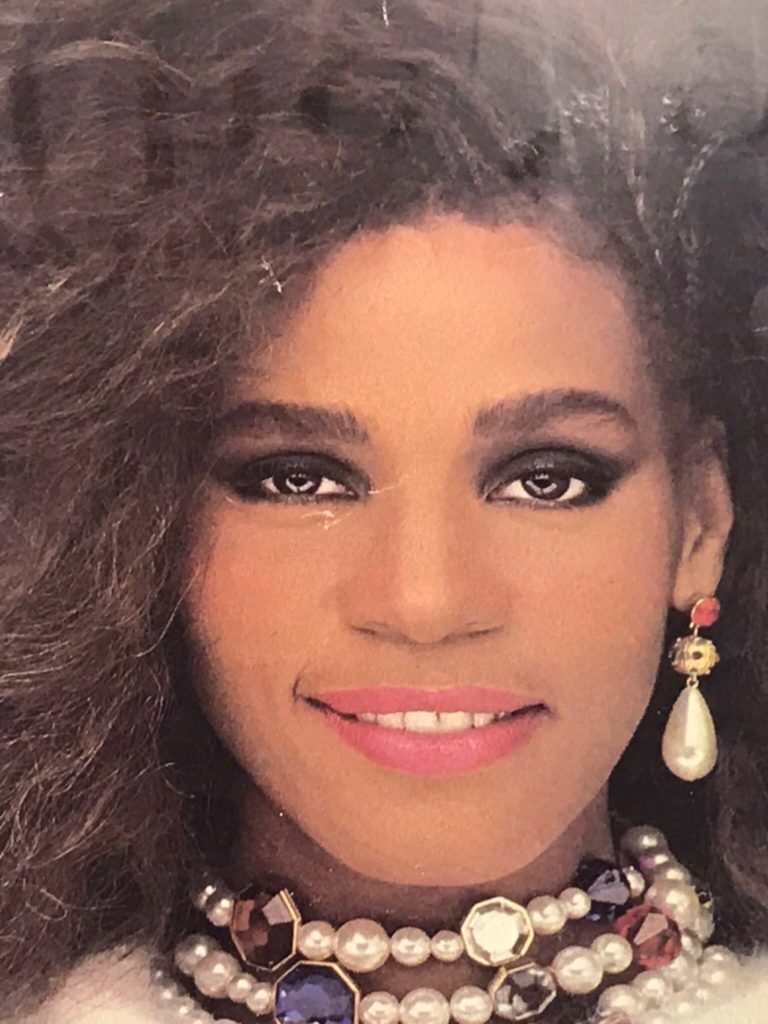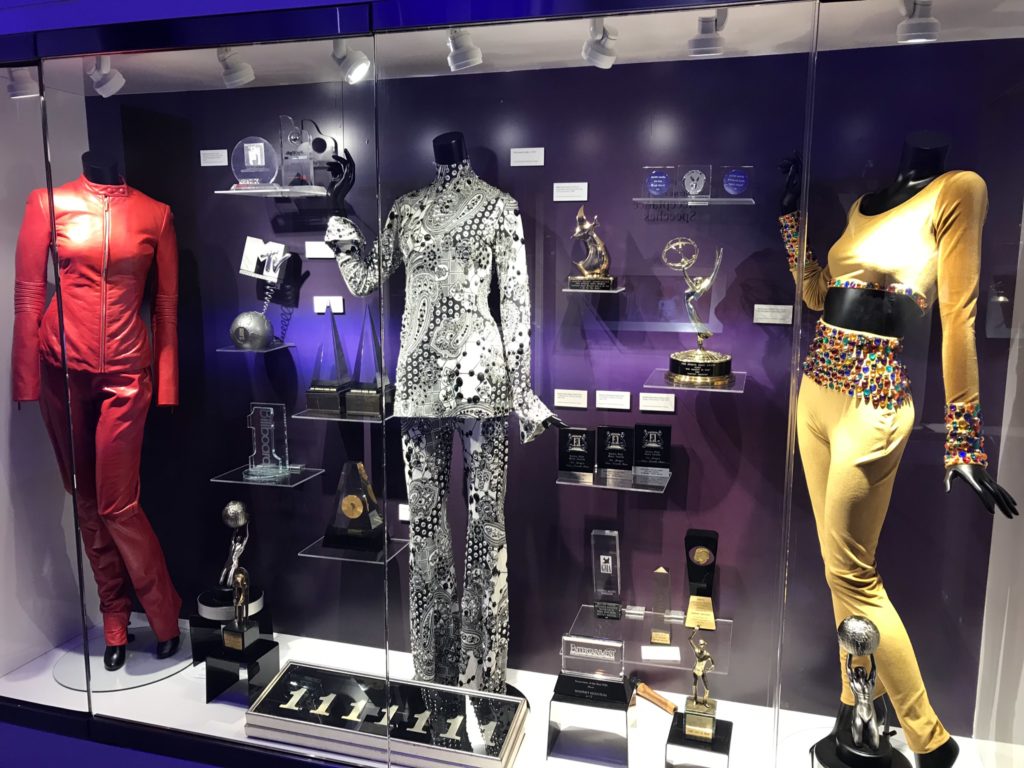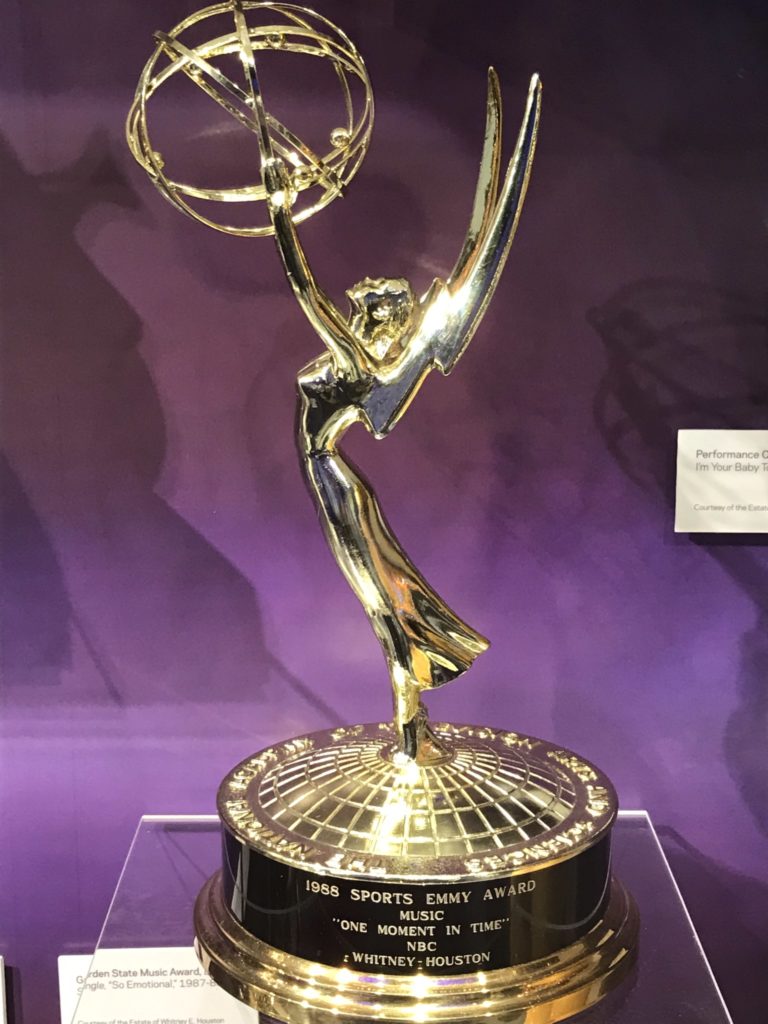 The Whitney Houston Foundation has generously shared personal items of the artist reflecting her start as a soloist at age 11 in the choir of the New Hope Baptist Church in Newark, the city of her birth.  In the collection is her high school diploma. With such talent and natural teenage inclinations, Whitney reportedly was eager to start her career as soon as possible and took lessons throughout those years.  In high school, I saw Whitney only in passing and make no claims of having known her except to write that before I heard about her singing, I was delighted to discover another tall girl at school. Whitney carried that height gracefully, and I remember a lovely, willowy girl who later blossomed into a beautiful woman.  As it turned out, we both had spent our first years in Newark.
An absolute thrill was when the "How Will I Know?" video came out. My former classmates and I called each other (on landlines) in excitement. Years later, we read that Whitney was not as happy with it, perhaps not having had the creative control that she did once her career soared. Both the song and video deliver the charisma, however, of a breakout star. Being world famous, Whitney's career in music and film were everywhere when I was living overseas.
A wise and long-time friend has shared the quote that people remain the same age for us as when we first met them. From Whitney's amazing songbook, it would be difficult for any of us to choose a favorite, but "How Will I Know?" takes me back to the sweetness of the beginning.
You can experience the celebration of Ms. Houston, her fellow New Jersey artists, and other Grammy winners at the Prudential Center, Tuesday through Sunday, 11-6 and also find more information about Newark sights at the Greater Newark Convention & Visitors Bureau where you will receive another warm welcome.
(Sources: Grammy.com, billboard.com, whitneyhouston.com, businessinsider.com, independent.co.uk, forbes.com, nytimes.com, espn.com, nhl.com, newarkhistory.com, 101.5, cnn.com, top10hq.com, flickr.com, itunescharts.net, Wiki)

"A Song for You: The Grammy Museum Experience at the Prudential Center" All Rights Reserved © 2019 Kathleen Helen Levey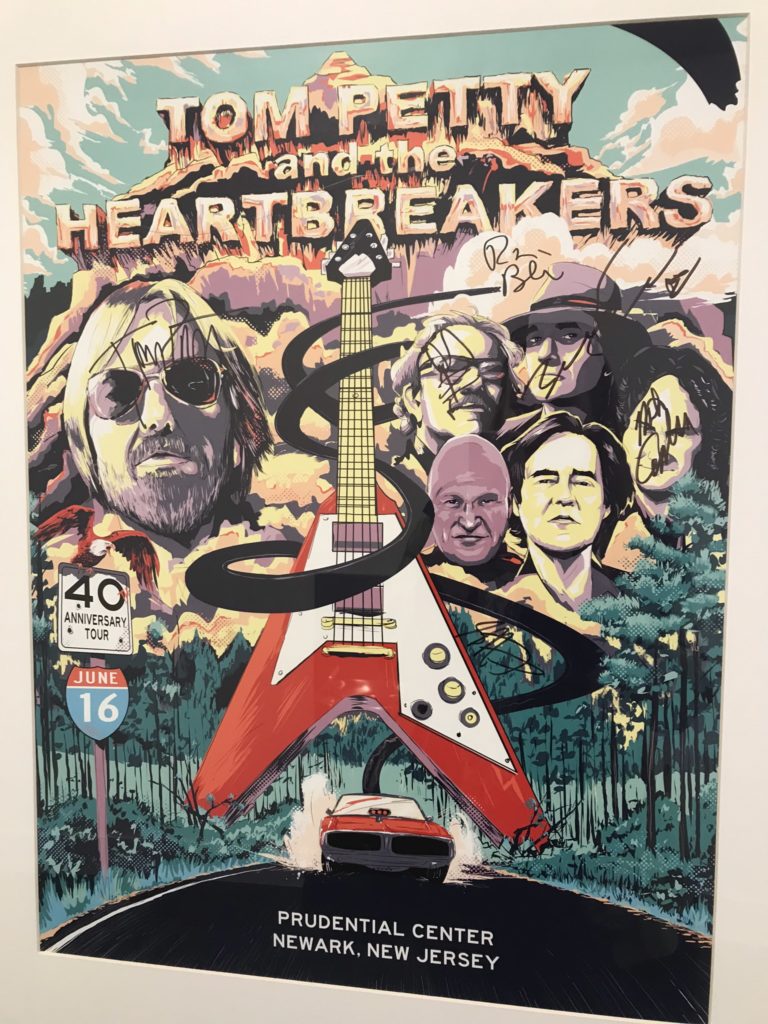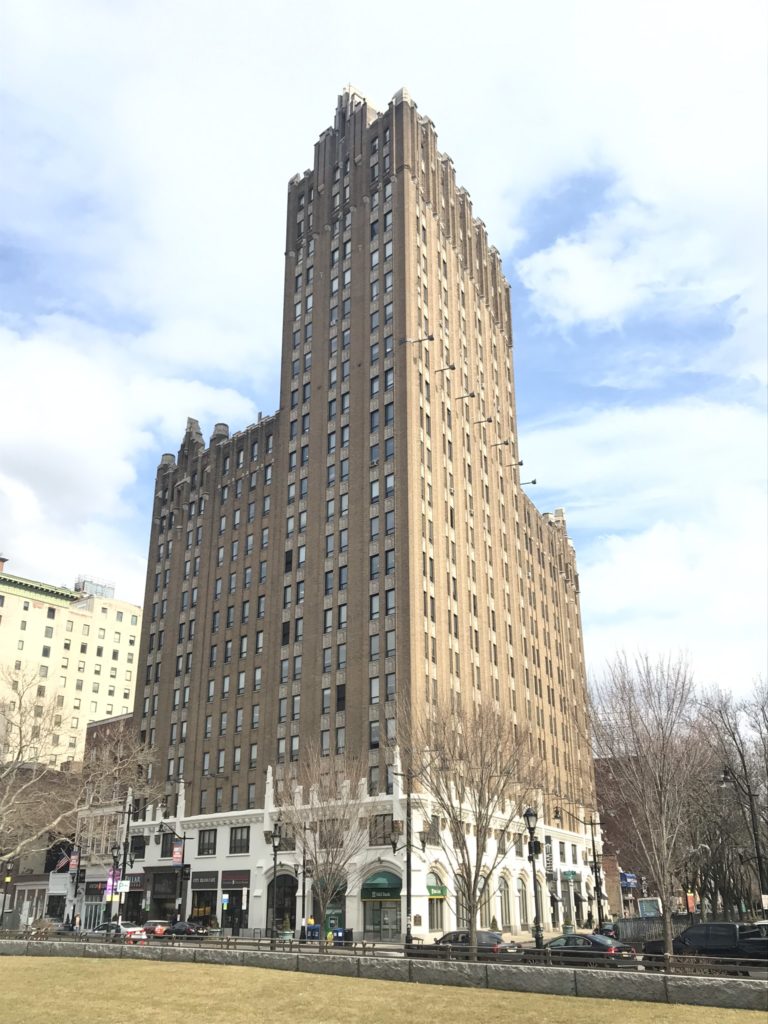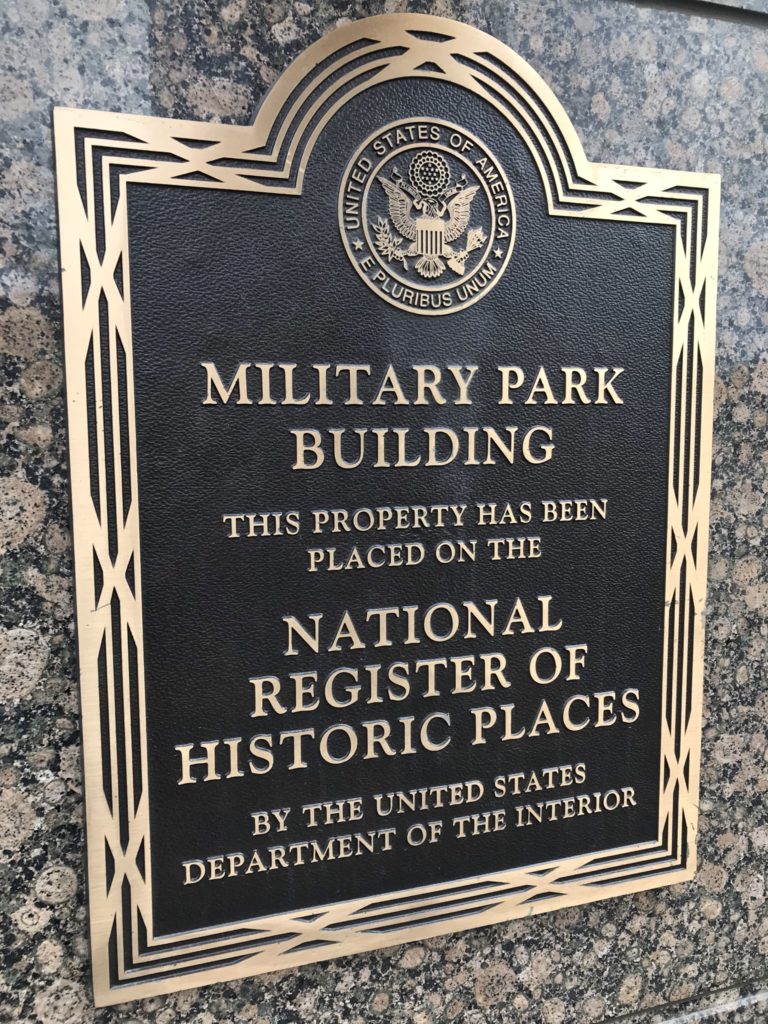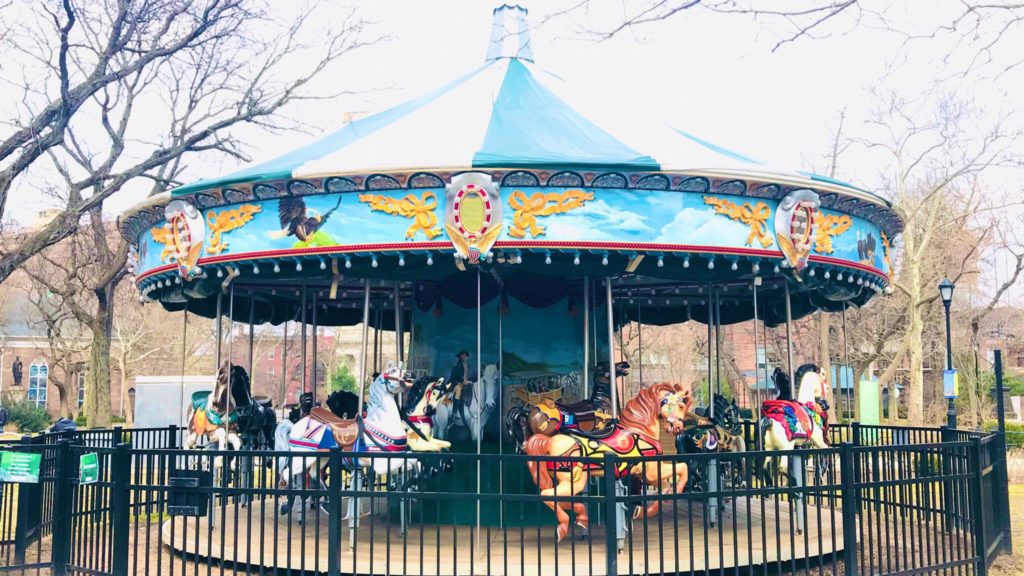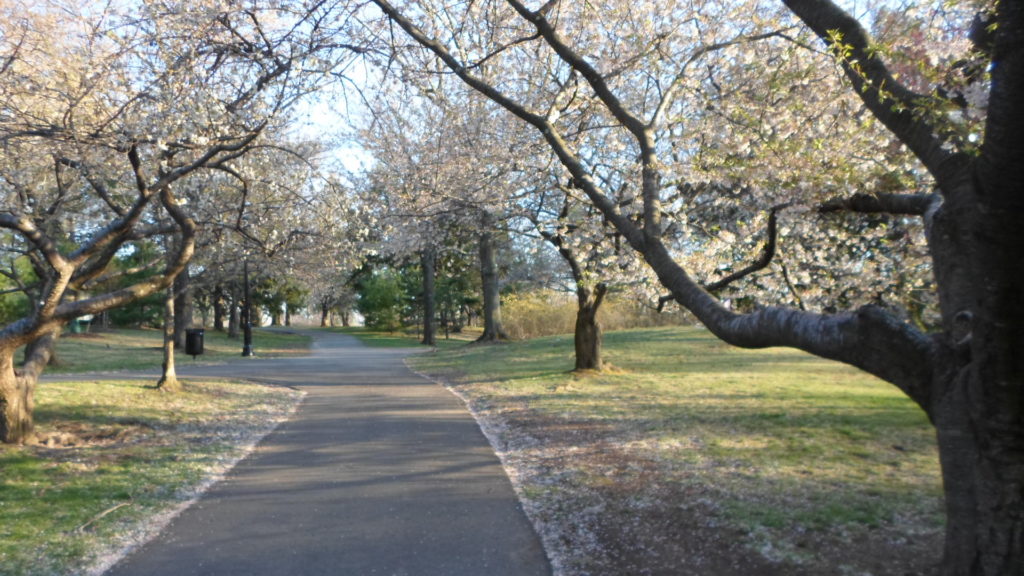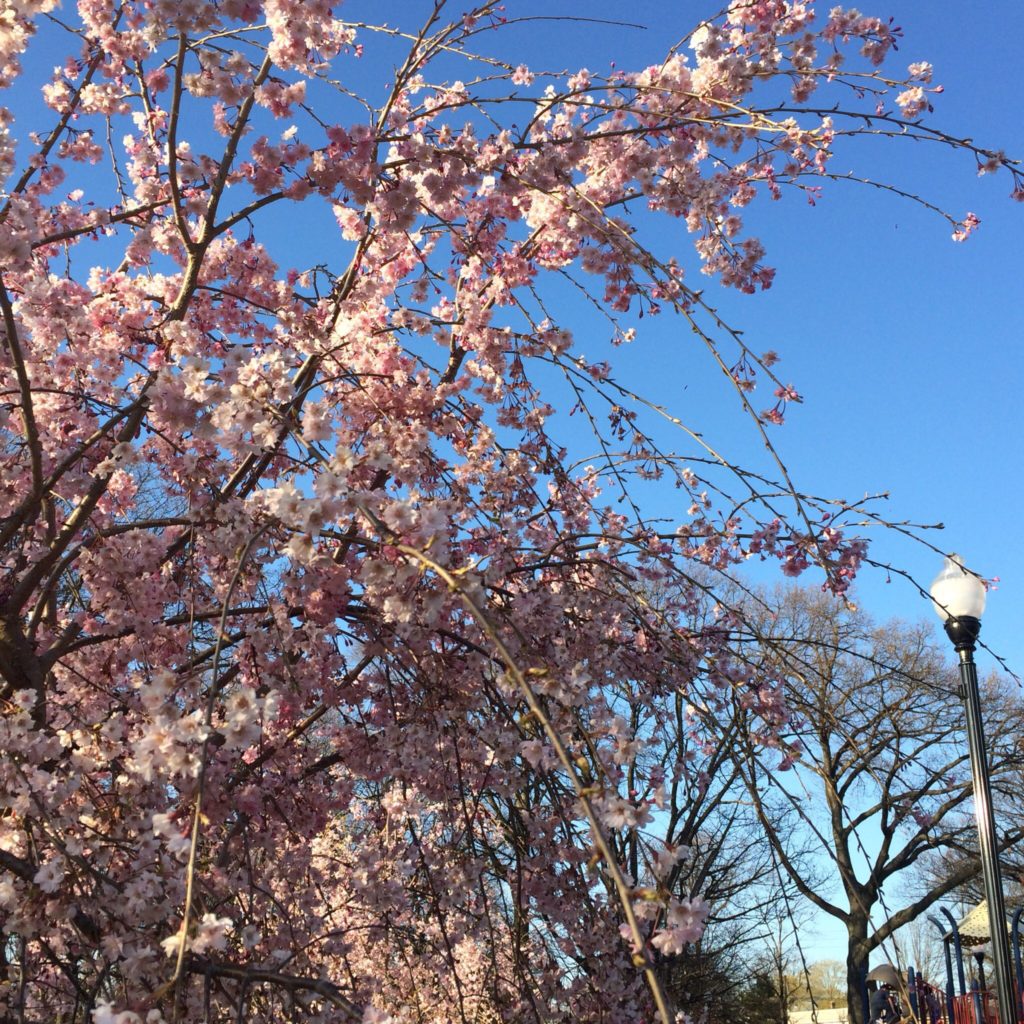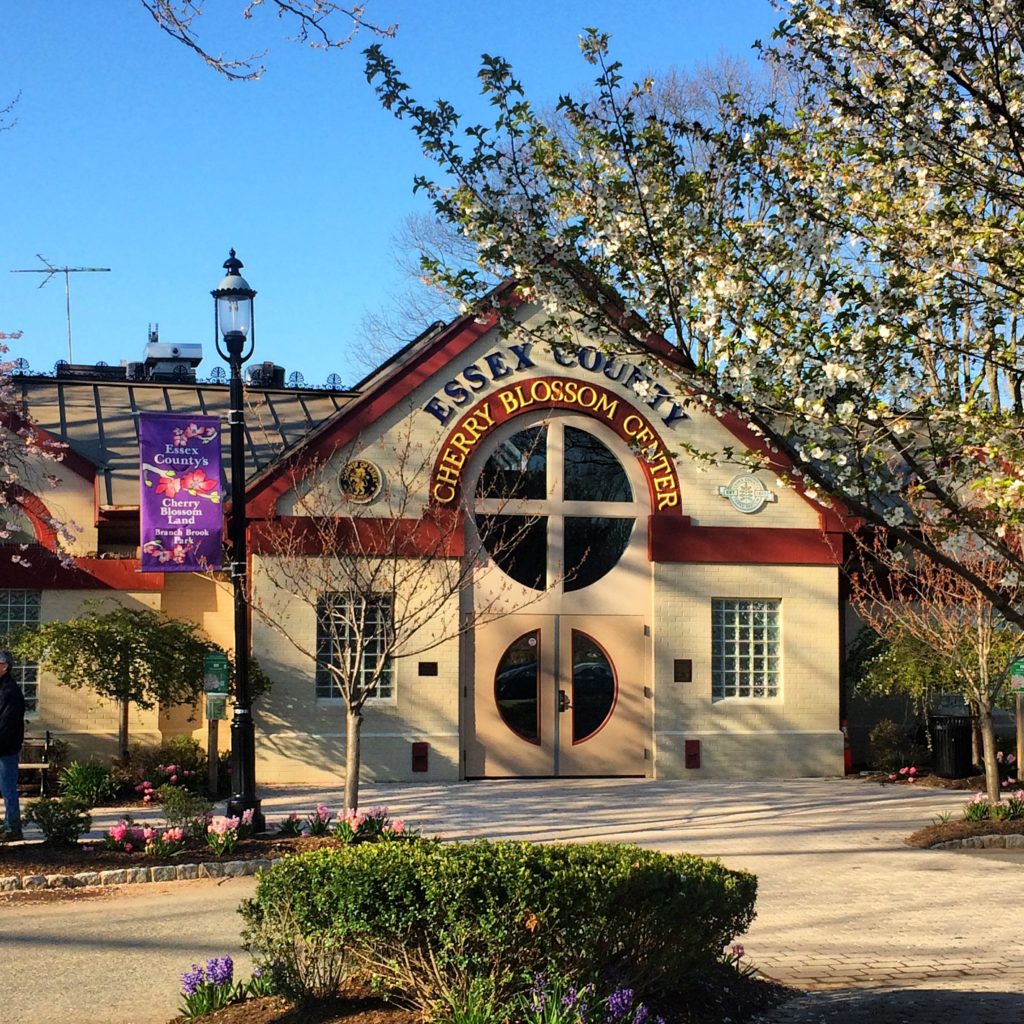 The harmonious design like Olmsted's Central Park